RESTAURANT, CAFE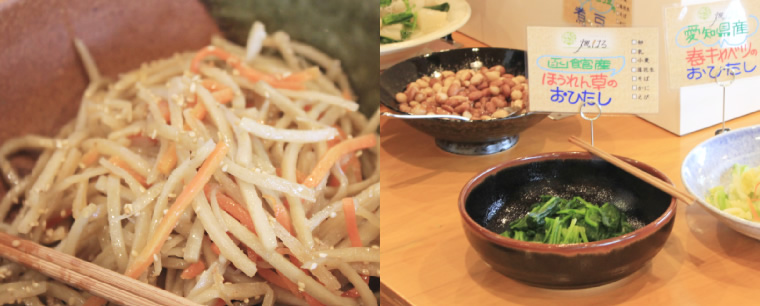 Art Park Center- Buffe Gochiso Kitchen
"Hatake no Haru"
(Art Park Center 2F)
A buffet restaurant which features the delicious flavor of vegetables, through nostalgic and historic cuisine prepared using Hokkaido's seasonal produce. Hatake no Haru features daily and seasonal Menus, so visitors can experience a new kind of "deliciousness" every time they visit.
The restaurant cooks so that the inherent flavors of the ingredients come across with seasonal vegetables taking center stage.

Visitors can also get a taste of elaborate desserts made by pastry chefs who use the unadulterated great taste of the raw ingredients.

For visitors with children, we also offer a Kids Corner so parents can enjoy their meals leisurely.
MENU
Buffet Prices

*Price before tax

Adult (jr. high school or up) ... 1,500 yen
Senior (65 and up) ...1,300 yen
Child (elementary school or up) ... 900 yen
Toddlers (3 or up) ... 500 yen
Under 3 years of age ... Free

Alcohol Menu

*Prices before tax

Sapporo Classic (beer) medium glass
...500 yen
Sapporo Premium Free ...400 yen/ can
【Design-time fee】
Daily dessert plate of 2 types (Japanese style plate).
(Summer only) ... 750 yen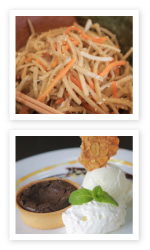 Art Park Center- Buffe Gochiso Kitchen
"Hatake no Haru"
(Art Park Center 2F)
OPENING HOURS

Buffe 11:00 to 15:00(Last order 14:30)
Dessert time (summer only)
15:00 - 17:00(Last order 16:30)

CLOSED

Follows park calendar

CONTACT

TEL. +81-11-215-1778

HP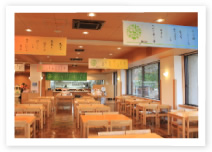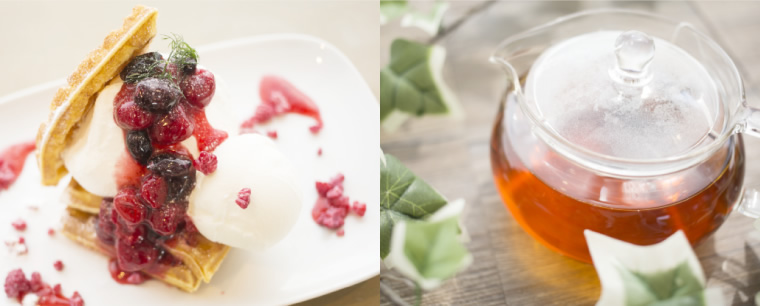 CAFE 「la Foglia」
(in Sapporo Art Museum)
La Foglia is a café that allows visitors to enjoy the rich fragrance of teas and other beverages, as well as homemade confections while looking out on scenery that changes from season to season.
The Very Berry Waffle, splashed with a rich dose of ripe, sweet, and sour, berry sauce.

A marriage between fluffy soft and ripe bananas. With chocolate sauce.

Customers can enjoy the tea they drink at the shop at their own homes. We also suggest mini-gifts and more.
MENU
Waffle

Plain Waffle…550 yen
Catalana Waffle…750 yen
Very Berry Waffle…750 yen
Chocolate banana Waffle…750 yen

Tea & Coffee

Tea…400 yen
Apple tea…400 yen
Strawberry rose tea…400 yen
Grapefruit tea…400 yen
Iced tea…400 yen
Season-al tea…400 yen
Iced Coffee…400 yen
CAFE 「la Foglia」
(in Sapporo Art Museum)
OPENING HOURS

11:00 to 17:00

CLOSED

Follows the schedule
of the Sapporo Art Museum

Contact

TEL. +81-11-215-1778

HP