SAPPORO ART MUSEUM SHOP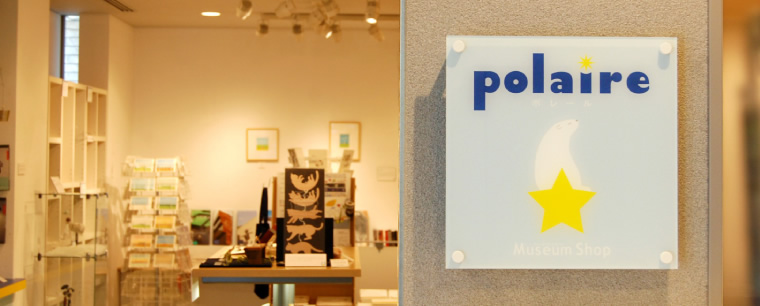 MUSEUM SHOP "polaire"
(in Sapporo Art Museum)
The Museum Shop sells Sapporo Art Park original goods, Post Cards, exhibitions Catalogus, works created by artists from Hokkaido, and more.
ORIGINAL GOODS
Masking tape

… S types available, 600yen each (including tax)
The Museum original masking tape by five artists, illustrators, and comic artists residing in Hokkaido: Haruka Koro, Koyori Sasaki, Kazuichi Hanawa, Masayuki Mori, and Akio Morisako. Made by Kamoikakoshi Co., Ltd., famous for the MT series. 24-millimeters wide.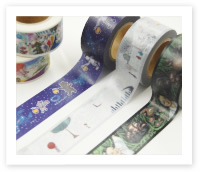 Haruka Koro " Endless Field "

Born in Sapporo in 1981, Haruka Koro is a Japanese artist who draws worlds that look like something out of a picture book, centering primarily around natural landscapes with a simple structure. Her masking tape features a little boy and girl in the middle of the forest after the rain has let up — a design reminiscent of a fairy tale. The grayish hue that hushes the drawing overall somehow soothes the viewer.

Koyori Sasaki "vegetables "

Koyori Sasaki is an illustrator residing in Sapporo. The shading and mixed colors created by vibrantly colored ink and the gentle, relaxed touch of her works through the use of light line drawings are also popular among newspaper series and magazine illustrations. Ffrequently working with illustrations related to food from Hokkaido, she draws flelds and vegetables from Hokkaido with mouth watering, fun-spirited design.

Kazuichi Hanawa

Kazuichi Hanawa is a comic artist residing in Sapporo. Having debuted in the magazine Garo, Hanawa is known for bizarre comics set in the Heian and Muromachi periods of Japanese history, and Inside a Prison, based on real experiences. His unparalleled world drawn with a rich touch focusing on human karma has produced loads of fans throughout Japan. For the masking tape, Hanawa drew a spectacular world woven together by the likes of cicada larvae and mushrooms along with a familiar young girl from his comics. There is a repeated pattern of the young girl appearing four times followed by the appearance of five cicada larvae.

Masayuki Mori "The Star Festival"

Masayuki Mori is a comic artist born in the town of Urakawa in 1957. Mori depicts heart-warming stories with a motif of daily life for adolescent girls with simple frame shifts and character descriptions. He was in charge of the drawing for "The Melody of the Square" for Minna no Uta on NHK. He portrayed the song by illustrating a street corner radiating a gentleness along with a slight touch of loneliness. On the masking tape, Mori features a design tapestried with young boys, girls, and animals holding paper lanterns in hand under a deep indigo night sky twinkling with countless stars. It is hard to tell whether the drawing is depicted in the woods or in the heavens with The Star Festival procession tailing on forever.

Akio Morisako "Skimas Tape"
ARTIST GOODS
Art works and goods by artists in Hokkaido are on sale in one corner of the Museum shop. This is priceless art that you can find nowhere else but here. Go ahead and pick one up for your collection or for a special someone.
Exhibiting artists
Kashimi Nanako, Kasumi Suzuki, Atsuko Kanata, Masayo Keizuka, Haruka Koro, Koyori Sasaki, Fumiko Shinmei× Ryo Okabe, Reo Fujisawa, Akio Morisako, Masatoshi Yamamoto, others
Exhibition Catalogue fair
… 500 yen each (100 yen for some)
Catalogus of exhibitions held in the Sapporo Art Museum are available for sale for 500 yen (or 100 yen for some).
Exhibitions Catalogue *Japanese version
Please apply by phone (+81-11-591-0090) if you would like to place a remote order. Please be aware that we require registered mail and cash on delivery payment.
* For customers living in Japan (domestic shipping only), in Japanese orders for customers only.
MUSEUM SHOP 「polaire」

(in Sapporo Art Museum)
OPENING HOURS

from 9:45 to 17:00
(in 6/1 - 8/31 until 17:30)

CLOSED

Follows the schedule
of the Sapporo Art Museum

CONTACT

TEL. +81-11-591-0090